11 truck accessory options under $1000
Want to personalize your vehicle but don't know where to start? We've compiled a list of accessories you could get for your truck under $1000. Wondering what's available for SUV's or cars? Contact our parts department at 1-844-242-1379

Aeroskin II Textured Black Hood Protector
: This custom-designed Molded Hood Protector offers the ultimate protection from bugs, dirt, rocks and debris. It provides a precise fit by following the contour of the hood.  $109 (price does not include installation)
Bed Rug
: Designed specifically to fit the contours of your vehicle, this Bed Carpet featuring the GMC logo is made of a durable carpet-like surface that resists water, stains, solvents and chemicals. Its molded foam backing helps protect the bed from scratches. $449 (price does not include installation)
All Terrain X Sport Bar
: Create a rugged, off-road appearance for your vehicle with this bed-mounted Sport Bar package in Anthracite featuring the Sierra script. $995 (print does not include installation)
Front Tubular Nudge Bar: Both on- and off-road, the front bumper-mounted Tubular Nudge Bar offers rugged style while helping to protect your vehicle's front end from minor obstacles or brush. $579 (price does not include installation)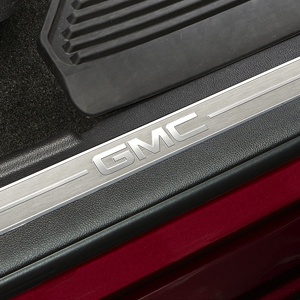 Door Sill Plates: Enhance the appearance of your vehicle's front door sills with these custom Door Sill Plates in Jet Black featuring GMC lettering. $129 (price does not include installation)
Interior Trim Kit: Accent, personalize and add a new dimension of style and luxury to key points in your Sierra 1500 Crew Cab with this Interior Trim Kit in Synthesis. Included as part of the kit are two hockey stick trim pieces for the front doors, a cupholder bezel, and a trim ring for the center console. $279 (price does not include installation)
Tubular Rocker Guard: Enhance the styling of your vehicle while helping to protect the lower door area from rocks and road debris with this Rocker Guard. $499 (price does not include installation)
Kicker/GM 200 Watt Subwoofer: This Audio System-Subwoofer system duplicates the musical accuracy of live concert experiences, minus the crowds. It adds big-bass subwoofers in a small space, along with high-efficiency, low power-draw amplifiers and a unique sound signature from multi-channel amps with DSP. $779 (price does not include installation)
All Terrain X Step Bars: Enhance your vehicle's rugged, off-road looks with these 3-Inch Off-Road Step Bars in Black. Tubular construction with textured, traction-gripping step surfaces offer sure footing for entering or exiting the vehicle. $975 (price does not include installation)
All Terrain X Wheels: Personalize your vehicle with these All Terrain X wheels validated to GM specifications. Centre caps are included, but not tires. $996/set (prices does not include installation)
Underseat Storage Box: Contain, organize and conceal items under the rear seat of your Crew Cab with this durable, molded plastic Rear Underseat Storage Organizer in Black. $239 (prices does not include installation)
Our parts depart is a great place to come for all of your parts needs! With almost a million dollars in inventory, we can supply all of your parts and tire needs. Our parts department has several experienced parts personnel, some who have been with the dealership for over 30 years.
For a parts quote, click here!
To see what else our parts department has in store, click here!
All prices are accurate as of September 14, 2017.